Docklands Light Railway achieves 99% punctuality
Client
KeolisAmey Docklands Ltd
Higher availability thanks to POSS monitoring system
Docklands Light Railway (DLR) is responsible for public transport in the busy London Docklands urban district. Over 120 million passengers each year make use of the 7 lines and 45 stations. For that reason, the transport company strives for the highest possible availability. Thanks to POSS, punctuality rose to 99%.
Over 120 million passengers each year make use of the 7 lines and 45 stations
Customer's challenge
With more than 120 million passengers per year making use of the light rail network in the London Docklands urban district, it should be clear that the network must have the highest possible availability. This is the only way that the Serco Group plc transport company can guarantee high punctuality.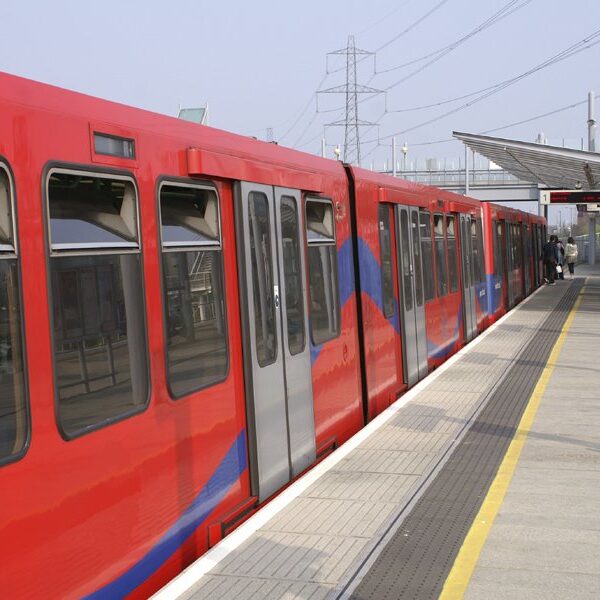 The digital monitoring system monitors the entire DLR network. This comprises:
150 points
30 axle counters
Wireless data transfer
Real-time access to information via the cloud
Commissioning and testing
Maintenance advice
In addition to the electro-hydraulic points operating units, we also monitor the moveable frog points of points operating unit type HW. POSS measures the motor current of the points operating unit, the points direction setting and the outside temperature. This data is transmitted to the cloud server via GPRS. The maintenance technicians have real-time access to all of the data via their laptop or smartphone. Furthermore, thanks to an early warning system, they receive a message before a failure occurs. This makes a difference in terms of effort and costs.
The result
Thanks to POSS, the Docklands Light Railway's trains run according to schedule 99% of the time. This has saved Docklands Light Railway from penalties. Furthermore, the London traveller very much appreciates Docklands Light Railway's high reliability.
'POSS increased the reliability and availability of all point sets and saved us financial penalties'
– James Heaton, KeolisAmey Docklands Ltd
The projects impact
Insight into switches
Insight into the condition of the switches enables the customer to find possible defects before they occur and determine the cause of the defect before the engineer reaches the site.
Punctuality
Punctuality has risen to 99% owing to the project.
We would not be able to do without POSS to provide the levels of service required by our client and the London public.
– James Heaton, KeolisAmey Docklands Ltd
More about condition monitoring